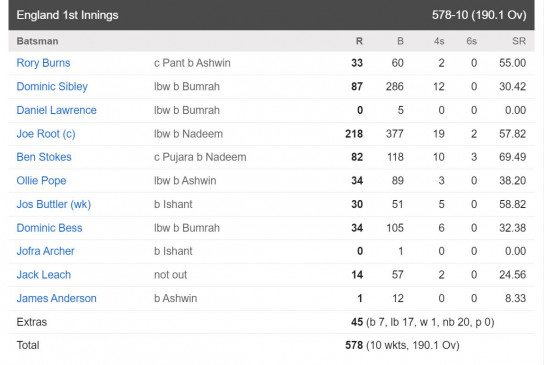 Digital Desk, Chennai. The first Test match between India and England is being played at the MA Chidambaram Stadium in Chennai. England were all out for 578 on the third day. The first setback for India came in the opening over. Rohit Sharma was out for 6 off paceman Jofra. Schubman Gill (13) and Pujara (0) are at the crease.
The second day was named Root
The second day of the game was named after England captain Joe Root. Root scored 218 off 377 balls to put England in a strong position. Root became the first foreign batsman to score a double century on Indian soil in the last ten years. Earlier in November 2010, Brandon McCullum of New Zealand scored 225 in the Hyderabad Test.
England 10 wickets fell like this
First wicket 63-1 (Rory Burns, 23.5)
Second wicket 63-2 (Daniel Lawrence, 25.4)
Third wicket 263-3 (Dominic Sibley, 89.3)
Fourth wicket 387-4 (Ben Stokes, 126.1)
Fifth wicket 473-5 (Alli Pope, 152.2)
Sixth wicket 477-6 (Joe Root, 153.6)
Seventh wicket 525-7 (Jose Butler, 169.2)
Eighth wicket 525-8 (Jofra Archer, 169.3)
Ninth wicket 567-9 (Dom. Base, 185.3)
Tenth wicket 578–10 (James Anderson, 190.1)
England first innings
Indian bowling in the first innings
England have not won a fish for 35 years
For the last 35 years, the England team has not won against India at the Chepauk i.e. MA Chidambaram ground. India has been unbeaten here for 35 consecutive years. The English team last won in 1985. The last Test match played at this ground was between India and England in 2016. Since 1985, India have won three consecutive matches against England. Now 4 years later, both teams are facing each other on this ground.
Weather and pitch conditions
According to the Meteorological Department, there is no chance of rain for 5 days in Chennai. The maximum temperature during the match is 31 degrees. The minimum temperature is at 22 degrees. If we talk about the pitch, a total of 32 Test matches have been played here. The team that batted first won 10 matches. At the same time, the batting team also won 10 matches. The average score at the ground was 338 first inning, 356 second inning, 240 third inning, 157 fourth inning.
India 11: Shubman Gill, Rohit Sharma, Cheteshwar Pujara, Virat Kohli (captain), Ajinkya Rahane (vice-captain), Rishabh Pant, Ravichandran Ashwin, Washington Sundar, Shahbaz Nadeem, Jaspreet Bumra, Ishant Sharma.
England 11: Dominic Sibley, Rory Burns, Daniel Lawrence, Joe Root (captain), Ben Stokes, Allie Pope, Jose Butler (wicketkeeper), Dom Bess, Jack Leach, Joffre Archer, James Anderson.