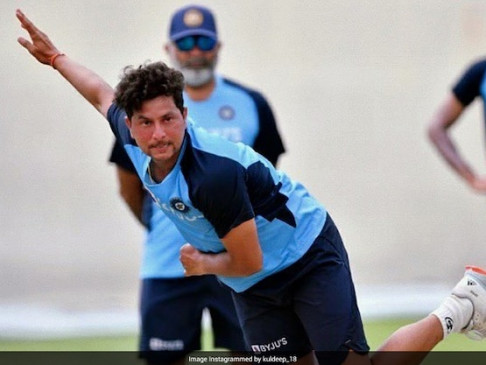 Digital Desk, New Delhi Delhi. The decision by the team management not to give left-arm spinner Kuldeep Yadav a place in the playing XI in the Chennai Test has come as a surprise to many former cricketers, including sports enthusiasts. Kuldeep did not get a chance to play a single Test match during the tour of Australia. Captain Virat Kohli has said that Kuldeep has a chance to play here during the first Test against England.
If you look at the Chennai pitch, the three spinners will get a place in the XI against England. Veteran off-spinner Ravichandran Ashwin and Washington Sundar got a chance to play in this match. Everyone was hoping that Kuldeep Yadav would get a place in the team after Akshar Patel missed the last chance due to injury. Despite Kuldeep's previous records, it didn't seem difficult, but to everyone's surprise, Shahbaz Nadeem was included in the playing XI, who has been associated with the team as a standby player.
Indian bowling coach Bharat Arun said after coming from Australia that Kuldeep would be playing in India. He said Kuldeep did not play in Australia because the team management adopted a strategy of selecting players according to the field. At the same time, India captain Kohli said, you can count on two years, but in 2020 we will not play cricket for long. So it wasn't such a long break. New Zealand's conditions were not conducive to playing three spinners, he understood as a man. But now they are in our plans for the gear season.
Kuldeep played his last Test match in Australia in Sydney in January 2019 and in that match he bowled 31.5 overs and scored 99 runs for 5 wickets. MA Chidambaram of Chennai has been a great help to the field spinners and Kuldeep Yadav specializes in spinning the ball, so he can be a problem for the England team. Kuldeep Yadav took 24 wickets in 6 Tests at an average of 24.12, his best performance in this format was 6-119.