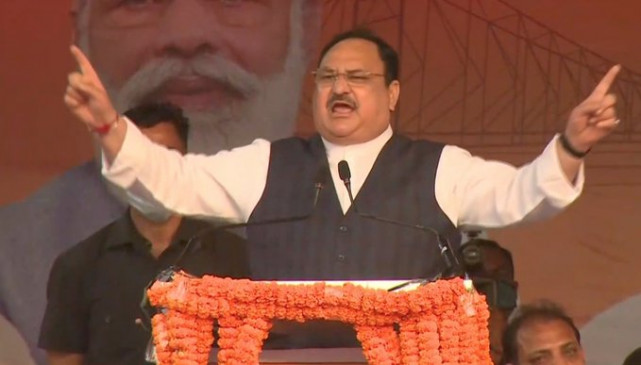 Digital Desk, Kolkata. Assembly elections will be declared soon in Bengal. In such a situation, the political temperature in Bengal is rising rapidly. In the midst of this rising temperature, BJP president JP Nadda on Saturday flagged off the chariot from Naudip and embarked on a transformational journey. He said that at this time, during the Nehru era, Bengal was going to East Pakistan. If Pakistan breaks into two, Shyama Prasad Mukherjee will work to save Bengal.
JP Nadda said the transition journey started from here. This change is not just a change of acceptance, this change is a change of thought. Mamata Didi formed the government here 10 years ago in the name of mother, mother and mother. In ten years, the mother was robbed, the identity of Bengal was damaged and even Mati was not respected. Corruption here was institutionalized, politicized the administration and used alongside the police to promote criminal activity.
Nadda said about 130 BJP activists were killed here. More than 300 activists were attacked. When these people are able to attack us, what happens to ordinary people? Such a government would have to go. The benefit of the Aayushman Bharat scheme was not given to the people of Bengal. Through the Parivartan Yatra, let the people know about the Modi government's AYUSHMAN plan that Modi ji is not worried about his health, but Mamata has stood in the way.
JP Nadda said Mamata G could not manage the Bengal culture and BJP activists would protect it. The way Mamata ji put an adjective in front of my name, it says that you have disrespected the culture of Bengal. Narendra Modi played the culture of Bengal. Nadda said women were being tortured more and more in Bengal today. Most of the rape cases are happening in Bengal and domestic violence is happening in Bengal. If the Chief Minister of Bengal is a woman and still does not respect women, then change is needed in Bengal.
The BJP president said that the people of Bengal chanted the slogan Jai Shriram, so why is there so much hatred on this slogan? Isn't it wrong to associate with Indian culture? Is it wrong to name great men? For these people politics is beyond culture. "I can clearly see the attitude of the people of West Bengal that change is coming, eczema is blossoming and TMC is going," he said.