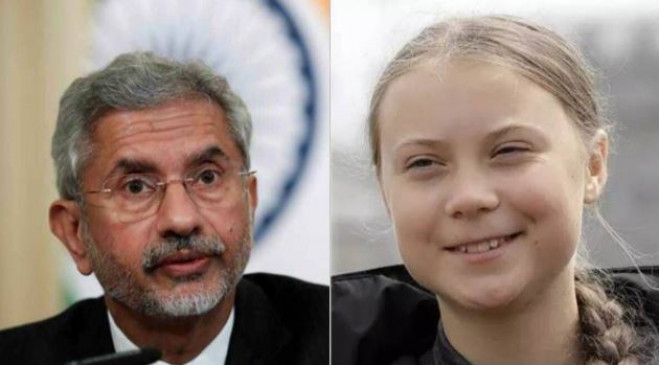 Digital Desk, New Delhi Delhi. Foreign Minister S Jaishankar's statement came to light after Khalistani linked to a toolkit shared by environmental activist Greta Thonberg about the farmers' movement. Jaishankar said a lot of things were revealed in the document. It is clear from these documents why the Ministry of Foreign Affairs responded to the statement made about the peasant movement by international celebrities.
The foreign minister said a lot of things had come out of the toolkit and many more things would come out in the police investigation. That said I think this case has revealed a lot of things. We'll have to wait a bit and see what else comes up. You can see how the Foreign Ministry reacted to the statements of so many people because they did not know what they were talking about.
Explain that the Delhi Police have filed an FIR against the author of the toolkit shared by Greta Thonberg. The FIRs were registered on charges of treason, criminal conspiracy and incitement to hatred. Police said it was a copy of the action plan facing allegations that the farmer shared in the toolkit a series of protest events, including the January 26 violence at the tractor rally. Special CP (Crime Branch) Praveer Ranjan said the preliminary investigation revealed that the toolkit was created by the "Khalistani organization" Poetic Justice Foundation.
The toolkit previously shared by Greta encouraged people to hold solidarity protests at or near Indian embassies, local government offices or the offices of various multinational Adani and Ambani companies. Billionaires Mukesh Ambani and Gautam Adani have been accused of 'making money by joining hands with the Modi regime to exploit the people, land and culture of the world'.
However this toolkit was later removed and a new toolkit was uploaded. No mention of new toolkit companies. In the toolkit, all dates and references given for operations by January 26 are also removed. At the same time, following an FIR by the Delhi Police, Greta Thonberg said, "I am with the farmers' peaceful protest." No hate, threat can change this.