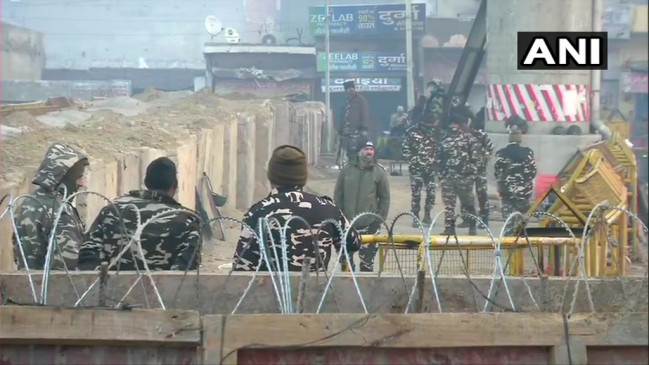 Digital Desk, New Delhi Delhi. Today, more than 40 farmer organizations are set to drive across the country against central government agricultural laws. "There will be chukka jams across the country from 12 noon to 3 pm today," the farmer's organization said. The protest will be in complete peace. The police administration has put in place extensive security arrangements keeping in view the performance of the farmers.
To assist the Delhi Police in maintaining law and order in Delhi, paramilitary forces have been deployed in various parts of Delhi-NCR, including the border. At the same time, the main opposition party, the Congress, supported the farmers' demonstration.
Indian Kisan Union spokesperson Rakesh Tikait said roads in Delhi, Delhi, NCR, UP and Uttarakhand could not be blocked. He said that there is a jam-like situation in Delhi every day, so here is what the jam needs. However, he did not give a reason for keeping UP and Uttarakhand apart. It is said that the farmers of these two states were kept on standby and could be called at any time.
Farmers are protesting the live updates
Delhi: Farmers' unions across the country today called for Chakka Jam. In view of this a large number of security personnel have been deployed in the ITO in Delhi.

Farmers' associations across the country will be jammed today from 12 noon to 3 p.m. pic.twitter.com/SZQxAvewOz

– ANI_HindiNews (HAHindinews) February 6, 2021
Chakka Jam: About 50,000 police and paramilitary forces deployed in 50,000 Delhi-NCR

Read on @ANI Story | https://t.co/6bxN4DIDCupic.twitter.com/UXlpv131RV

– ANI Digital (@ani_digital) February 6, 2021
Security tightened in Delhi-NCR in view of farmers' 'chukka jam' call; Visuals from the border (Ghaziabad) where the drone is being used to monitor the situation.

According to Delhi Police, 50,000 personnel of Delhi Police, Paramilitary & Reserve Forces are deployed in Delhi-NCR pic.twitter.com/wikAnHnXLy

– ANI (ANI) February 6, 2021
#WATCH Farmers today are using security drones to monitor the Loni border in view of the chuck jam call of companies across the country. https://t.co/YPqScBZ4QPpic.twitter.com/SimHDOnqy7

– ANI_HindiNews (HAHindinews) February 6, 2021