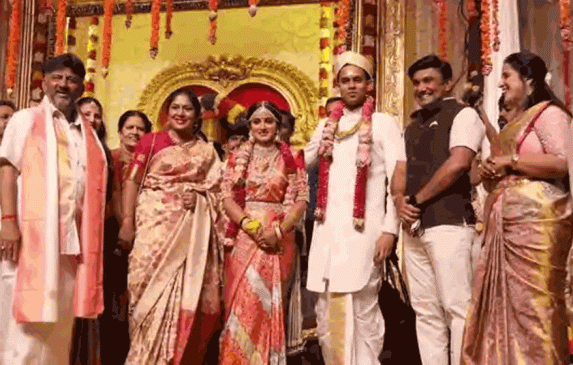 Bangalore (IANS) Karnataka Pradesh Congress Committee (kepisisi) President DK Sivakumar's eldest daughter Aishwarya tied the knot with BJP senior leader SM Krishna's grandson Amartya Hegde on Valentine's Day on Sunday. The wedding took place at a hotel here. On this occasion, the Chief Minister of the state B.S. Yeddyurappa, several cabinet ministers, opposition party Congress leader Mallikarjun Kharge in the Rajya Sabha, former chief minister Siddaramaiah, H.D. The event was attended by many politicians, celebrities and stars from the Kannada film industry, including Kumaraswamy.
Amartya, Cafe Coffee Day founder V.G. The eldest daughter of Siddharth and Krishna is the son of Malavika Hegde. A party official said the wedding ceremony was held in accordance with the religious tradition of the Vokkali community. The Kovid protocol was followed at the wedding ceremony.
Explain that Aishwarya and Amartya were engaged on November 19 in a hotel on the outskirts of the city. Krishna was the Foreign Minister in the UPA-2 government (2009-12) and served as the Chief Minister of the state from 1999-2004. He was in Congress at the time.
Aishwarya wore a gold embroidered red and white sari while Amartya wore a white kurta and pajamas during the wedding. Sivakumar appealed to his own district and party cadre supporters to bless the couple through social media from their home in view of the restrictions imposed on large gatherings to prevent the spread of the corona virus.
Sivakumar is a Congress MLA from Kanakapura constituency in Ramnagar, a neighboring district about 60 km southwest of Bangalore. The newlyweds will have a reception on February 17 in Bangalore.