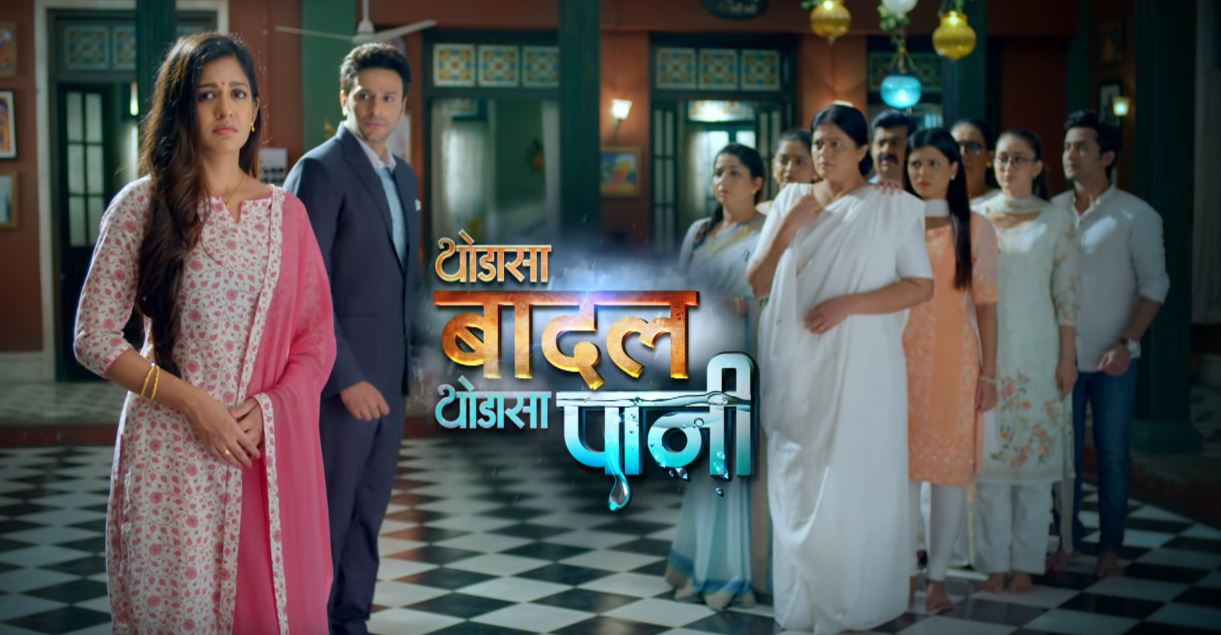 Thoda Sa Baadal Thoda Sa Paani 14th January 2022 Written Episode, Written Update on TellyUpdates.com
The Episode starts with Anurag telling Priyanka that she has done tamasha of him, her and his family. Priyanka says if you had married Kajol then would have gone happily for shopping. Anurag says I would have gone happily, but I am getting married to you and not with Kajol. Priyanka asks him to happily marry her, else she will make tamasha of Kajol and threatens to call Police. Kaushik asks Pulti not to do any drama infront of groom's family. Bulti asks him to kill her. He says she don't know what he can do with Apu. Bulti cries. Apu tells Kajol and Chandana that Bulti don't want to marry someone else, and says I will die without her. Anurag says it is better for the truth to come out, rather than I get scared of all life for your threat. Priyanka calls Inspector and says I want to record my confession, and says I know the attacker's name. Anurag takes the phone and says Inspector Saheb. He finds out it was fake call. Priyanka says this is just trailer and asks him to imagine, how the movie would be. Anurag asks why don't you leave Kajol? Priyanka says she has snatched my precious thing from me, you. And she is even now trying. She asks didn't you see my passion for you, and tells that she loves him. She says can't you understand that you are important for me, and you used to think about Kajol, I have to do this.
Chandana tells Kajol that what she can do alone. Kajol says we have to find out about Apu and Bulti. She says if Bulti also feels for him, then you shall go there and talk to them. Chandana says how to talk to them. Kajol says I can't go there, you have to go Maa. She prays that their story end shall be good.
Arundita gets Bulti ready. Bulti says I will not show any interest or talk to them nicely, so that they refuse. Arundita says I will slap you so hard, but your make up will be spoiled. Bulti asks her to kill her. Kaushik comes there and says enough. He says he don't want any drama else….Bulti says else you will get him arrested. He shows Apu's photo in which he is sleeping in his room. He says I have planted someone, and tells that his man can do anything on his sayings. Bulti says I love him a lot and can't be happy without him. She asks why you people are against him. Kaushik says he has spoiled your mind, whatever we are doing is for your betterment. He says he wants her to have smile on her face, and she shall talk nicely.
Tai ji asks the guests if they know Shreya's father. They say they know him and praises Shreya for handling home well. Shreya smiles. Naina gets upset. Kaushik and Arundita bring bulti there. Kaushik introduces Arindham to the family. Naina brings snacks and asks them to have it. Shreya thinks Kajol was straight, but Naina is twisted. She thinks she wants to sacrifice her brother and wants to make her place in the life. Naina thinks game is mine, so I will win. She takes Amrita and Arindham's pic and thinks I have to sacrifice your love Apu. Chandana asks Apu to have something. Apu gets Naina's message and checks it. He sees Bulti and Arindham's pic. Apu says she had told me that she loves me, but I had forgotten that she is Arjun's sister. Chandana says you asked me to go there and talk about him. Kajol thinks Bulti is not like that. Arundita asks if they will like her. Arindham's father says he likes Bulti and wants them to get the marriage done at the earliest, as they have to go back to London. Tai ji says this will be the best marriage of the city. Bulti cries. Arindham's mother asks if she has any problem, if she wants to marry or not. Kaushik says she gets emotional thinking she will go far from us. Arindham's mother says I will keep you as my daughter. Shreya says ofcourse and hugs Bulti. She asks her to stop crying and says she will manage.
Kajol asks Apu not to cry and have something. Apu refuses. Kaushik tells that the family is good, we will have benefit in business and good for Bulti too. Bulti says first business comes for you. Kaushik says yes, this life style is due to this business and says you are upset today, but will thank me one day for this. He asks her to go to her room. Shreya thinks to help Bulti, to bring her plan in action. Apu tells Kajol that they don't have true love in destiny, they both got betrayed. Kajol asks do you love him truly. Apu says don't you see love in my eyes for her, and says just after meeting an NRI, I was thrown out, just as I don't exist. He says you got betrayed by Arjun, who married Naina. He says then Anurag came in your life, about whom we came to know through the newspaper. Kajol asks him not to trust on what he saw and asks him not to doubt his love and give respect and dignity to his love. He says I doubted Dr. Anurag, but he never doubted me. She asks him to have something for her sake atleast.
Precap will be added later.
Update Credit to: H Hasan
Also Read: Latest Written Updates

Source: Tellyupdates