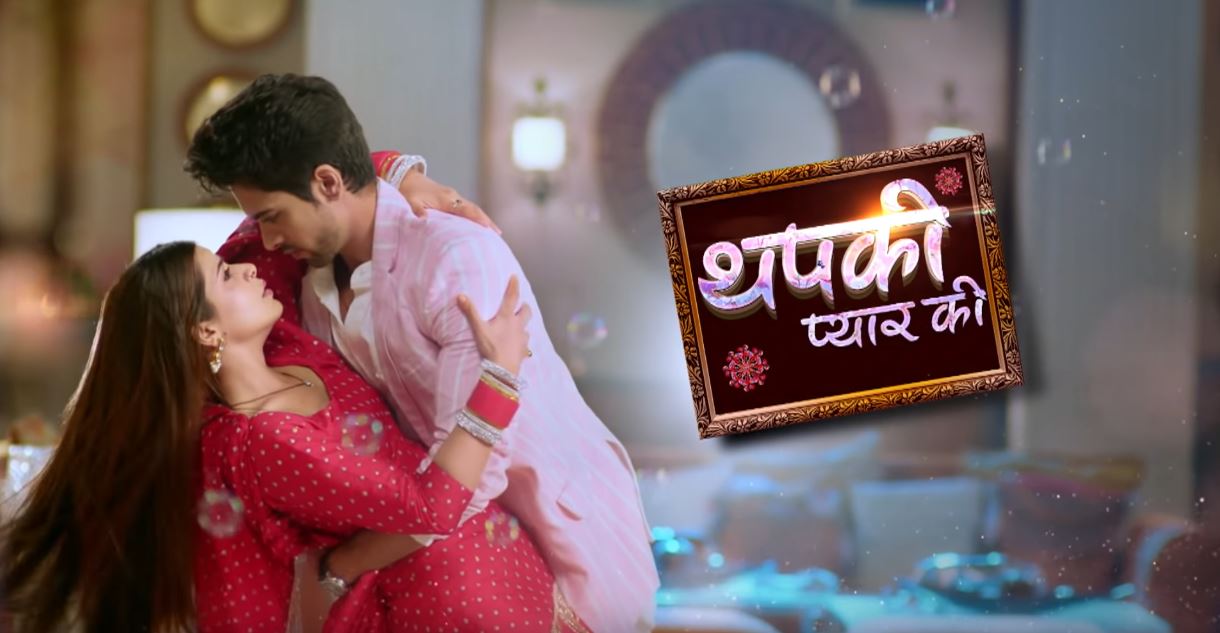 Thapki Pyaar Ki 2 13th December 2021 Written Episode, Written Update on TellyUpdates.com
The Episode starts with waiter Jatin lying to everyone that Anchun came running to him and asked him to give a room to him in the hotel. Anchun is shocked and asks why are you lying? He says you asked me to take her to room, else people will gossip. He asks him to say the truth and says this is very serious matter, don't lie. Purab asks him to stop. Jatin leaves. Purab says I had given you a chance and slaps him hard. Anchun is shocked. Purab says I hate lie and liars, and with such guys who troubles and teases girls and you have teased my sister. Thapki comes and holds his hand. Purab pushes Anchun. Thapki says my brother can't do this, and asks Sargam to say the truth. She says I trust my brother, he has not done anything. She asks her to tell whom she has gone to meet. Sargam says what you want to hear, that I had gone to meet Rohit. Vinod asks who is Rohit? Sargam says Rohit and I love each other. She says I had eloped to go and meet him, and says only bhabhi knew about our relation truth. Anchun says your Rohit had added medicine in the drink. Sargam says don't lie, I saw you giving me that medicine. Purab asks them to be quiet and asks Thapki if she knew about Rohit.
Dadi says you knew but didn't tell us. Veena says so much happened, and I got insulted. She was standing infront of everyone silently. Thapki says she didn't tell anyone for Sargam's sake as she don't want anyone to know. Purab asks Sargam, if you couldn't tell me this. Sargam says if you had taken Mom's side and would have tried to convince me to marry with Mom's choice. She says I thought Thapki Bhabhi will convince everyone for Rohit, but she along with Anchun did what he wanted to do. She says my Rohit asked me to go home, as you will get insulted. Thapki is shocked and tries to speak. Veena stops her and asks Purab to say, what will he do. She says Thapki is lying again and again, to prove her brother as Maryada puroshottam. Purab asks Thapki if she wants to say anything. Thapki says my brother Anchun is innocent, neither him nor I have done anything wrong. Dadi says wrong thing have happened, but I believe Thapki can't lie big. Purab says now she has to prove it as fast as she can. He says I am giving you a last chance, and this is given by the husband. He says if this chance goes away from your hand, then get ready for my decision. Thapki cries.
Hansika comes to meet Rohit and asks how did the twist come in the story? Rohit says I called Sargam after talking to you. Sargam says I don't remember and fainted after drinking water. Rohit tells that I have checked the glass and sent it for you. I asked him to give headache medicine and I went to get cab for you. He says when I returned, you was not there and says may be Anchun had added something in your glass. Fb ends. Hansika says she really loves you. Rohit says my impression. He says why Jatin lied. Hansika says money proves heavy on friendship. Jatin comes there and sits on the sofa. He says money was greater than one year salary, so who cares for friendship. A fb is shown, Hansika giving money to Jatin to do her work. fb ends. She then gives money to Jatin again and asks him to leave the job and the city. Jatin takes it and leaves. Rohit asks for the money. Hansika gives him money and says you have to do much money. He opens the champagne bottle.
Veena Devi tells Sargam that this all started as she eloped for Rohit. Sargam says I wouldn't eloped, if you had not fixed my alliance with Minister's son. Purab says I want to meet Rohit. Sargam nods her head. Purab tells Veena Devi that let him handle this matter. Veena Devi taunts him. He goes.
Sapna comes to Veena and says Thapki shall be out of house, if not in jail. She says you lost the chance to search guy for Sargam. Veena asks her to stop putting ghee in the fire. Sapna says your bahu has done a big kand and I shall not say anything. Veena Devi gets upset.
Priyanka comes to the kitchen and takes peeler and potato from her hand, says you have cooked a big storm, I will cook the food. Thapki comes out and sees Vinod's newspaper falling down. Sapna picks it and taunts her for insulting them. Hansika says I have separated you from the family members, and when you couldn't prove Anchun's innocence, then Purab will throw you out. Veena Devi sits to do riyaaz and thinks of Sapna's words. She says you might be repenting to swap the bride and offers her water. She says your guilt will not let you focus and says if I was your bahu, then would have never let this matter stretched. She says how I found Sargam's location. She says you are looking at me, as if you want to throw me. She says may be you are Thapki's next hunt after Sargam.
Purab tells Thapki that Sargam is his weakness and his life, then why you didn't tell me about Rohit. Thapki says she had promised Sargam. Purab asks what about the trust between us. Thapki says I didn't know that the matter will be stretched. She says I tried to talk to you. He asks when? A fb is shown, Thapki tries to talk to him, when Vinod asks him to get ready. Fb ends. She tells that groom's family came when I tried to talk to you. He asks since when you know about Rohit. She says 3 days. He hits his hand on the glass window and says you haven't got the chance to tell me this, we stay together for 24 hours. He says I couldn't look at my mom, I never thought that you will support wrong, my sister was in danger due to you and your brother. Thapki asks him to believe that Anchun is not wrong. Purab asks her to prove, else he will not leave Anchun.
Precap: Thapki bandages his hand and ties handkerchief on it. She promises to bring the real culprit out. Purab wakes up. Dadi asks Thapki to have food. Veena and Sargam threaten to get up from table, if she sits. Thapki says I will have food in my room. Purab comes and asks her to sit and have food.
Update Credit to: H Hasan
Also Read: Latest Written Updates

Source: Tellyupdates