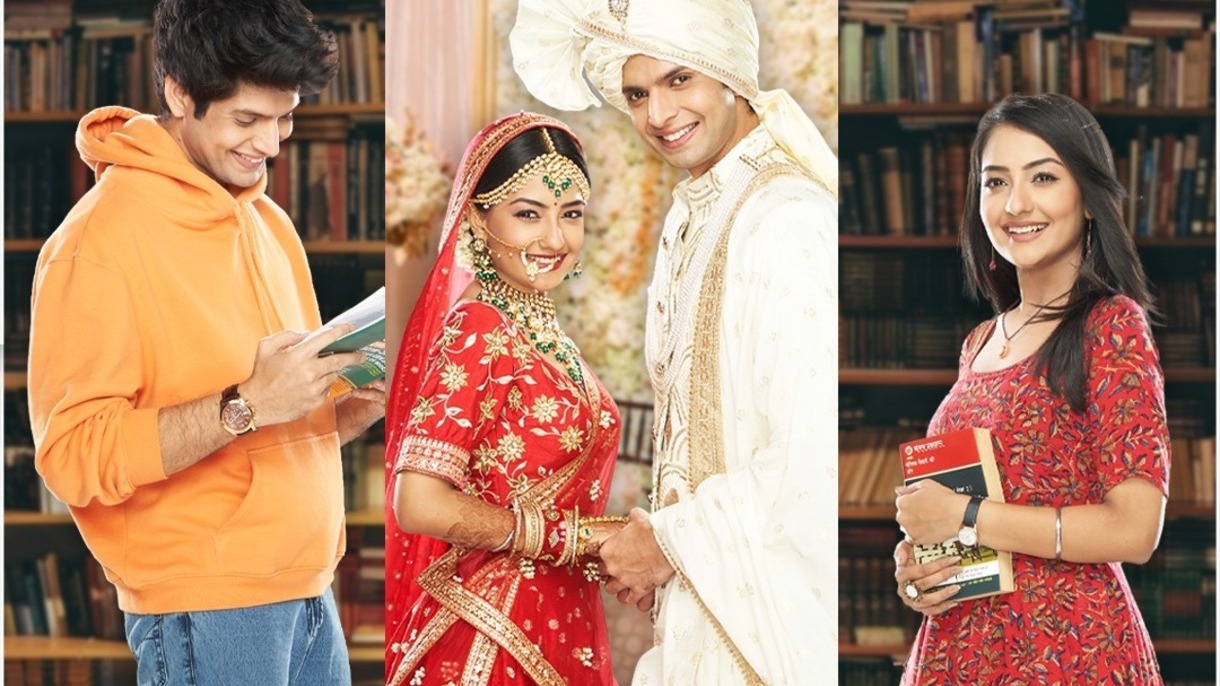 Iss Mod Se Jaate Hain 17th December 2021 Written Episode, Written Update on TellyUpdates.com
The Episode starts with Paragi seeing Atul taking the sweet boxes, she hides. After he goes, she comes near store room. Chanda comes out and says if I saw Paragi. Parashar asks Chanda to tell if there is any work. Chanda tries to see if Paragi is there. Parashar asks Chanda to come and tell him the work. He signs Paragi to go. Paragi opens the window and gets her finger injured. She then closes the window and attempts to get down from the window. She falls. Sanjay comes and catches her in his arms. Song plays…..Shiva comes there and sees the window open. She asks who is there? Sanjay and Paragi hides. Chanda calls Shiva. Shiva goes. Haule Haule Se plays…Paragi and Sanjay look at each other. Paragi thanks him for doing so much for her. Sanjay says we shall leave, else we will get late. They come to his bike. He says there will be traffic in morning so I got the bike. He says you can get auto, but there is chance that you can get late. He says I can understand that you will be uncomfortable sitting with me. He asks if she can sit in lehenga. She says she don't have time to change. They sit on the bike.
Gulshan and his family come to Parashar's house at 10:45. Chanda does Gulshan's aarti. Gulshan's mother tells that engagement shall happen on time. Parashar and Romi worry. He tells Romi that they will handle them. Paragi worries for home. Sanjay asks her to think of test. Paragi says 95 percent cut off is difficult. He says difficult for others, but not for you, your name is Paragi. Paragi thanks him. He says all the best. She shakes hand with him. He says you have injury on your hand, how you will write exam. Paragi says when I have reached here, what this injury can do. She says I will go. Paragi goes inside the exam hall. Pramod looks at her and thinks my doubt is cleared, this scholarship scheme started for this milk man's daughter and says she seems to be coming from function, exam is important then clear it. He thinks no student can score 95 percent marks.
Kinkar tells Gulshan that Paragi will come. Shiva brings the veiled bride there and tells that she was not coming. Parashar thinks I have to do something. Paragi comes inside the exam centre. Everyone looks at her clothes. She sits to write the exam. Gulshan's mother asks Chanda, what is she wearing? Shiva tells that Romi told about hiding the face game, and says it is in fashion. Romi gets worried and asks God to help her. Gulshan's mother asks what is the madness? Parashar says this is muh chupayi, hiding the same for Gulshan, to tease him. Gulshan's mother says ok. Romi hopes Paragi shall get scholarship. Aditi asks them to start the engagement. Romi asks God to save her. Gulshan looks at her.
Sanjay smiles. The professor says exam starts now. Sanjay hopes Paragi will get the scholarship. Paragi's finger bleeds as she writes the exam. Gulshan tries to see Romi. Shiva brings the ring and asks him to look at it. Paragi ties the handkerchief on her wounded finger and writes the exam. Sanjay smiles and says if intentions are good, then can make any situation bent down infront of you. Paragi prays to God to handle the situation. Chanda asks Paragi to make him wear the ring. Romi thinks God please do something. Parashar says stop.
Precap: Gulshan touches Romi's waist and she gets up shouting. Chanda asks if you are here then where is Romi. She comes to the exam centre and stops Paragi.
Update Credit to: H Hasan
Also Read: Latest Written Updates

Source: Tellyupdates