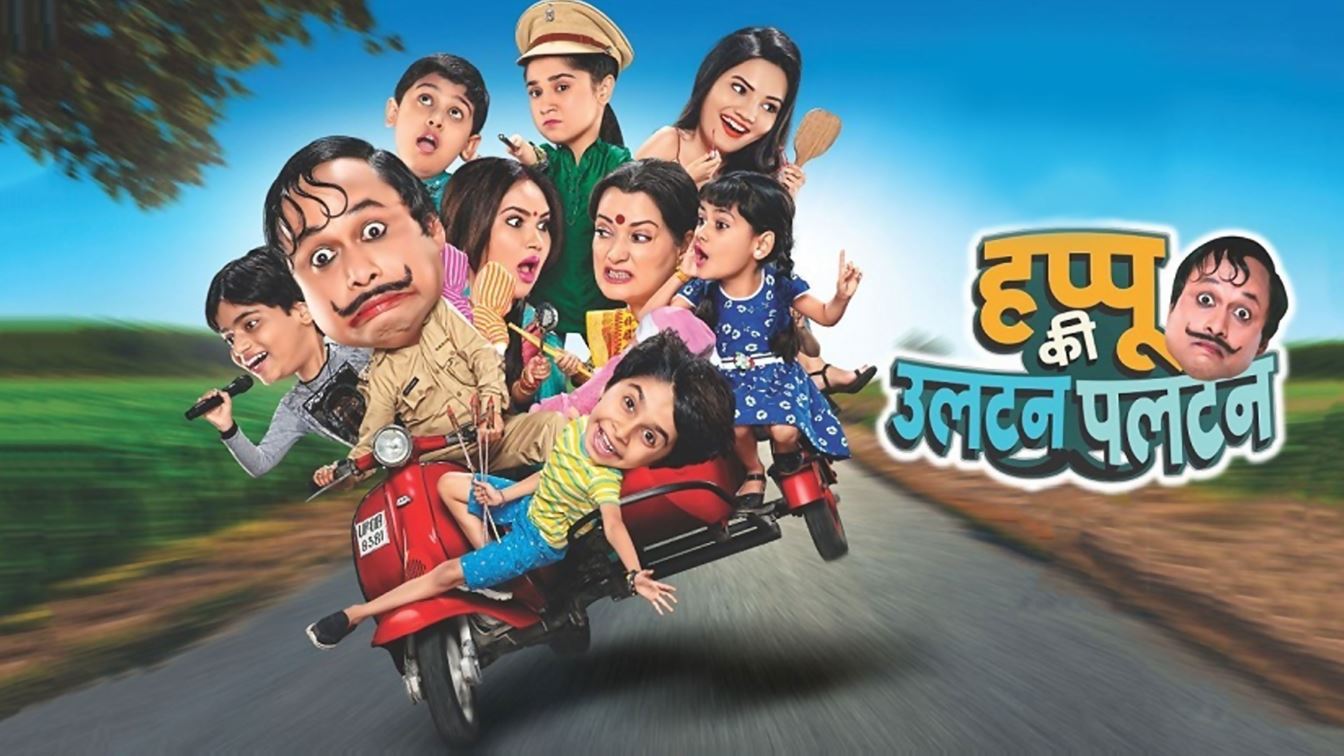 Happu Ki Ultan Paltan 18th November 2021 Written Episode, Written Update on TellyUpdates.com
The episode starts with Happu returning home and noticing doctor Udaas flirting with Rajesh and Rajesh telling even she thinks of only him. He asks what about Happu and children. She says says she is worried about society and not them. He asks her to hold his hand and let him handle the rest. She holds his hand. Happu asks what is happening, if she is not ashamed to shamelessly hold Udaas' hand. She says she loves Udaas and doesn't care anyone. Their argument starts. She leaves home holding Udaas' hand. He warns her that if she leaves his house.. She steps in and out and asks what will he do. He wakes up from sleep and realizes it was his bad dream. Rajjo scolds him not to disturb her sleep as she needs to visit clinic tomorrow. He thinks of testing her love and tries to get romantic. She scolds him more and asks him not to disturb her as Dr. Udaas would be waiting for her tomorrow. He feels dejected. She acts as snoring and makes him more jealous.
Happu wakes up Beni at midnight. Beni asks why did he disturb him at midnight. He says his happiness is at stake, but his bestfriend is worried about his sleep. Beni asks if what he and commissioner heard in clinic is true. Happu says they just heard voice and not saw it. Beni asks to sit with Rajesh and sort out their differences. Rajesh hears their conversation. Happu says he will go to clinic and himself evaluate the situation. Beni says he will accompany him to watch the drama. Happu asks him to serve him drinks now. Beni says its not good for him and asks him to go and sleep in kitchen. Happu falls asleep on study table.
Next morning, Rajesh waits for Happu and once she sees him coming dances with Udaas on Saath Samandar Paar Mai Tere Peeche Peeche Aagayi song. Happu leaves sadly. Rajesh slaps Udaas for getting closer to her and says now she will go and watch Happu's sad face at home. Happu walks to Amma's room. Amma asks why he came home early today. He says he is late and crying loudly says he lost Rajesh. She consoles him and asks reason. He says he didn't believe Beni and commissioner, but himself saw Rajesh romancing Udaas. Amma slaps him and says she cannot believe Rajesh is characterless, though she is arrogant, lazy, mannerless. Happu continues crying that Rajjo slipped from his hands. She consoles him more, and he walks away crying more loudly.
Kamlesh introduces his new girlfriend to Kat and asks her name. Girlfriend in a sensual voice says her name is Julie. He sings oh sheila, oh julie, jamalo ko humko samalo. Kat asks what happened to yesterday's girl. He says he is a celebrity now and changes girlfriend each day. Kat gets jealous and asks girl if she doesn't have any problem with Kamlesh changing girlfriends. She says she doesn't. Kamlesh asks Kat to take their pics. She asks to ask his wife girlfriend to take their selfies. Julie clicks pics. Kat walks away angrily.
Precap: No precap.
Update Credit to: H Hasan
Also Read: Latest Written Updates

Source: Tellyupdates