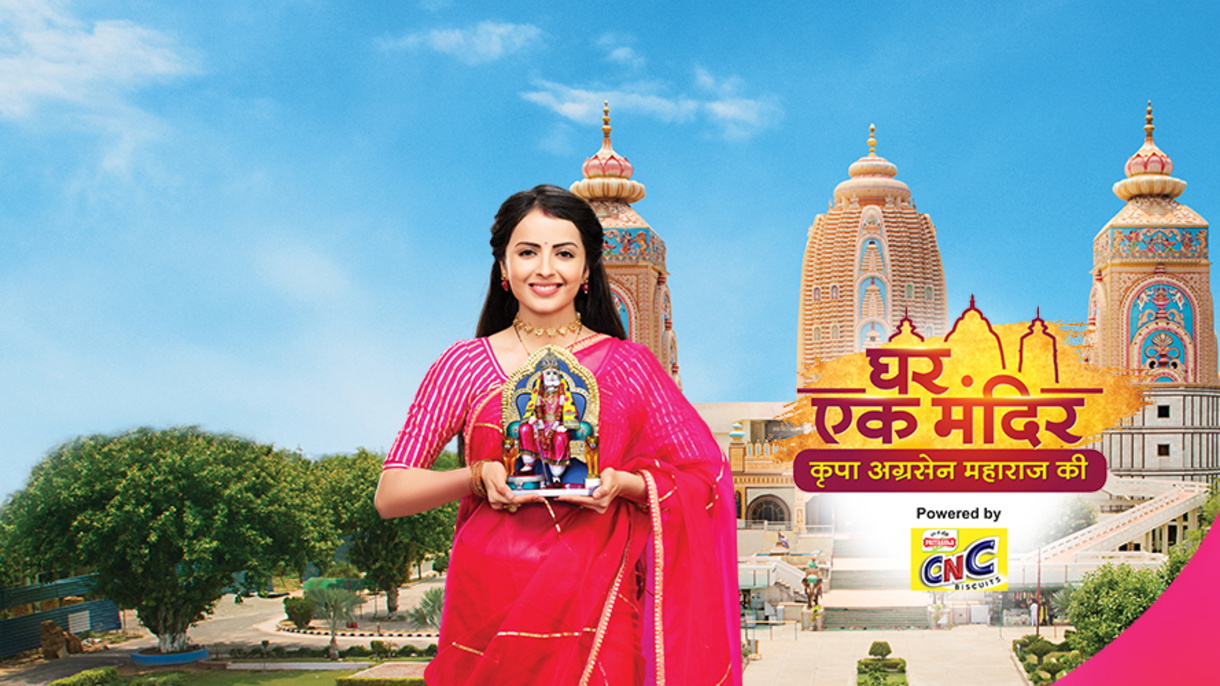 Ghar Ek Mandir 15th December 2021 Written Episode, Written Update on TellyUpdates.com
Kundan has dinner and leaves, Anuradha and Manish leave too. Nisha looks at the clock its 8.30 and Genda & Varun haven't reached home and now they won't get food and asks Shivam to give food to beggars and poor. Anuradha sees that and stops Shivam and says what will Genda and Varun eat, Nisha says they will eat when they arrive on time, Anuradha says its just 8.30, Nisha says she won't come, Kundan calls Anuradha and she leaves. Nisha asks Shivam to give food.
Nisha thinks why is Anuradha so upset, Genda should learn her lesson and work in house as well.
Genda reaches home and goes to kitchen and sees there is no food, and says food is over, let me cook something, Genda sees gas is over and cupboard is locked. Genda hurts herself opening cupboard, Nisha walks in with keys and says I have locked it, gas won't work I asked you to come by 9 which you didn't so no food and leaves. Genda thinks what will she cook and feed Varun.
Varun happy with design made by Varun, Genda walks in and tells about situation, Varun says lets have bread butter, Genda says okay and goes to get it.
Genda makes bread and butter and gives it to Varun.
Varun says Genda this necklace is special one, Genda says you are right.
Varun and Genda go to sleep.
A shadow walks in and steals the necklace.
Varun next day gets ready, Genda walks in with breakfast, Varun says lets have together, Genda says you start I will have later. Varun checks necklace and says its missing, Genda in shock and drops the tray, Genda and Varun panicked start looking around for necklace, Genda says I'm not finding anywhere, Varun says where did it go, how will we manage delivery. Anuradha and Nisha rush in hearing the noise, and see room shattered and asks whats wrong, Genda tells Anuradha necklace is missing, Anuradha in shock, Nisha says how is this possible did you search, Genda says I searched everywhere, Varun says its very important delivery, Anuradha says we will all work together and find it, Kundan walks in and says no required don't waste time supporting them and look at how careless they are, this is what happens when a women wants to do men work and laughs at Genda, she has invited destruction and went against society now see what is happening, Siddhant has challenged you and will do everything to stop you and dare if anyone helps these two and leaves.
Nisha says I think Papaji is right and Siddhant is behind this robbery and leaves with Anuradha. Genda gets angry and meet Siddhant.
Siddhant says have you lost it, I will never do such thing, don't push your incompetence on me, don't blame me without any reason, Genda says only you can do such cheap thing, you fall down to new limits every time. Siddhant says shutup, I never hide and attack, I'm not low standard to steal things, Genda says I very well know your standard, now listen carefully give my necklace back before my client comes to shop or I, Siddhant says what will you do, Genda says like Ravan had to face Ram, you will have to face Ram and Sita and leaves.
Varun on call with customer, customer says she will reach shop in sometime, Varun says okay. Varun says I have to go home and handle things, where is Genda.
Varun sees a bindi near his table and says this of the person who stole it and I know whose it is.
Anuradha searching for necklace, Kundan waiting for Anuradha to get him tea. Kundan walks out of room to look for Anuradha, Anuradha sees Nisha. Nisha asks what are you doing, understood you are looking for necklace, you are a mother and so worried, Anuradha says I think necklace os somewhere in the house and who is this tiffin for, Nisha says I care about Genda and Varun, so taking them food they will like it, but Papaji will get upset so please handle it, Anuradha says I pray you two keep supporting eachother. Kundan calls Anuradha and she leaves.
Nisha in her room, sees the necklace and says Genda will only loose and I want to see her break in shop.
Nisha locks her room and leaves. Varun hiding inside her room.
Pre cap: None
Update Credit to: Tanaya
Also Read: Latest Written Updates

Source: Tellyupdates