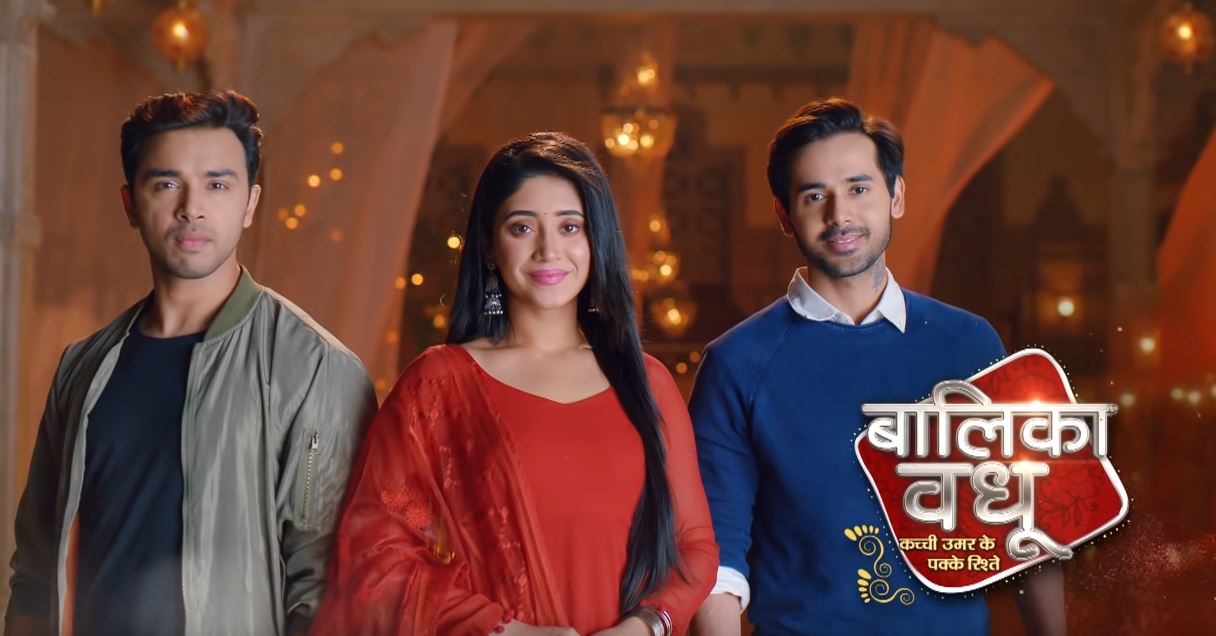 Balika Vadhu Season 2 14th January 2022 Written Episode, Written Update on TellyUpdates.com
The Episode starts with Kiara coming to help Anandi. Anand says I have got helpless because of mom. Anandi comes to Kiara's house. She thanks Kiara for the help. Kiara says its okay, chill, we can do the assignment together. Anandi says thanks for reminding. Anand calls Kiara. She says yes, she came home, I will take care, don't worry. He thanks her. Vikrant asks Kiara why did she get Anandi here. Kiara says Anand asked this favor, Anand and Anandi are my friends, I had to do this. He gets Diya's call. Diya tells everything about Anandi.
She says I don't know where is she. He says that's so sad, bad happened with Anandi, I hope she is safe, I have got some work, can I call you later, love you. She says love you too. He says we could have told Diya. Kiara says Anandi will be useful for us. Anandi thanks the Lord for sending help. Its morning, lawyer says you didn't tell me about the arrest, Jigar has a proof against you, do you have a proof about the child marriage. Anandi says I m the proof. Lawyer says this doesn't happen. Anandi asks what shall I do. Lawyer says annulment case will take much time, you don't have fees for me, I can't help you, sorry, I can't fight your case. She goes. Anandi cries. She says just Anand can help me. She calls Anand. He doesn't take the call. She hears a lawyer talking to the lady. She asks the lawyer about the other lawyer. He says she is a top lawyer, Mrs. Usha Sachdeva, she is the star of the court, she is a specialist in annulment cases.
Anandi says she may help me. Bhairavi talks on call. Anand hears her. Bhairavi says you can go ahead and help Anandi, thanks. Anandi tries to talk to Usha. Anandi sits with a boy. She tries to get Usha's attention. She says I was teaching a game to the kid. Usha says this is a court, not a school. Anandi says sorry to do this to get your attention, I was desperate to meet you, not everyone is lucky like you. Usha asks why. Anandi says I had a child marriage. Anand says you asked lawyer to not fight Anandi's case. Bhairavi says I won't pay the lawyer, I don't want Anjariyas to blame me. He asks what about my feelings. She asks is Jigar saying the truth about you and Anandi. He asks do you trust Jigar, yes, there is friendship between Anandi and me, just I have feelings for her. She asks what do you mean. He says you don't want me to talk to her, done, she won't stay here, we can help her financially. She says I cleared my stand, I won't help her, no one will help her, don't you dare use my money to help her. He asks your money… He returns the money and cards to her. He says thanks and leaves.
Diya says this is too much, Anand will hate you now. Bhairavi says its fine, I want to make you away from this drama. Anandi tells her story and asks Usha to guide her. Usha says I will help you. Anandi asks really. Usha says my assistant will adjust the dates. Anandi says I don't have fees right now, I will pay later. Usha says don't worry for fees, but money will be used for formalities, if you can manage that, call me. She gives her card and goes. Anandi says I don't have any money, how will I arrange money. She sees Ratan's pic and says her jewellery, I have to go Raigarh for it.
Sejal says we will return Anandi her things. Jigar says Anandi has nothing to help, keep the jewellery in locker. Maadi baa says yes, she has to come here and take it. Anandi comes home. She says I have to go if I have to win the case. She sees some ladies coming. Anand calls to sell the app. Diya asks will you sell your dream. He says I have to sell it for helping Anandi, she is fighting for justice. She says I will give you money, don't sell the app. He says no. She says stay here, I will get the chequebook. He says no, I won't use mom's money, mom doesn't want me to help Anandi, I will manage it on my own, don't tell mom. She says okay. Anandi takes a disguise and comes inside the house. Sejal asks who is she. Anandi says you had called me. She goes to Kanku. Kanku hugs her. She scolds Anandi for not replying to her messages. Anandi says I have come to take my mum's jewellery, I need money to fight the case. Kanku says Jigar knew you will come, so he made Maadi baa keep it in locker.
The episode ends.
Update Credit to: Amena
Also Read: Latest Written Updates

Source: Tellyupdates