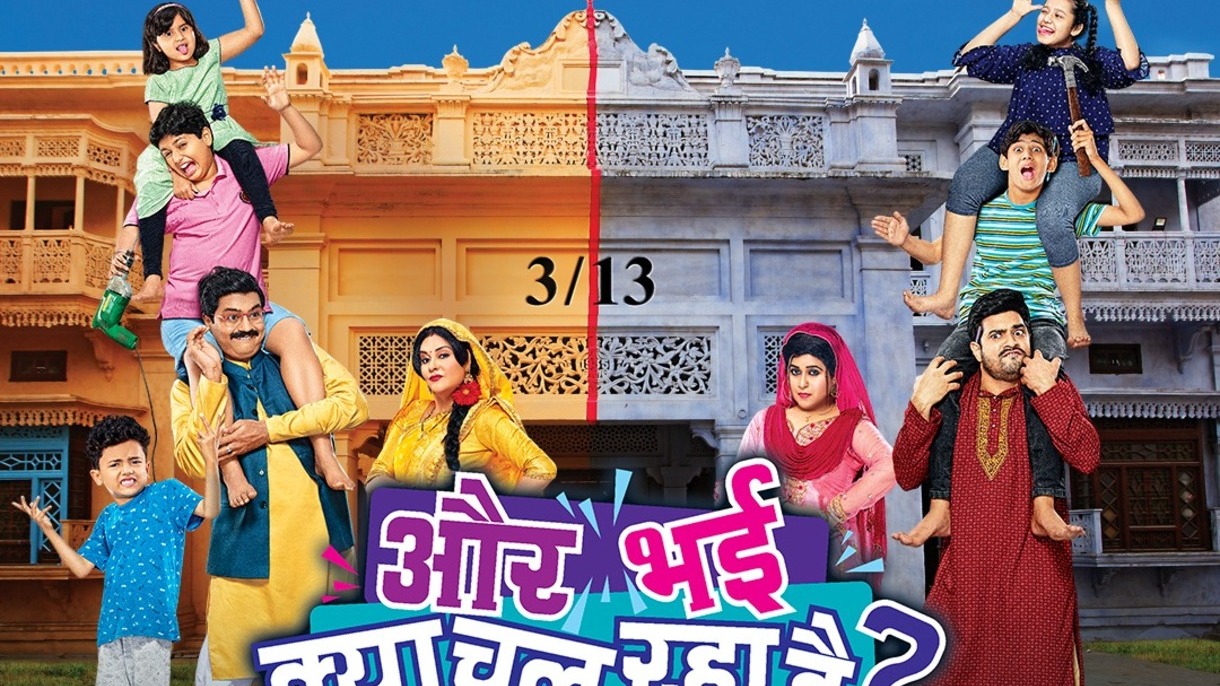 Aur Bhai Kya Chal Raha Hai 17th December 2021 Written Episode, Written Update on TellyUpdates.com
The episode starts with Mishra continuing his misbehavior with Brij. Shanti feels bad seeing that. Adi thinks how to avoid Mishra from attending his PTM/parent-teacher meeting. Mirza returns home after attending a relative's wedding. Adi thinks why Mirza is so handsome and his father is below average looking. He asks Mirza if he is going to attend Inam's PTM. Mirza says yes and walks in with children. Adi asks Sakina if Mirza is handsome like now since the beginning. Sakina says he was more handsome and used to look like Salman before and now Sohail. He says even now he looks like Salman. She asks how is their jodi. He says like Jaya Amitabh, Ranbir Aalia. She walks in laughing.
Mishra gets romantic with Shanti. Shanti warns him to sleep silently as they need to attend Adi's PTM tomorrow morning. Mishra sleeps frowning. Adi walks in silently and tries to make Mishra sniff asafetida . Mishra wakes up and asks what was he doing. He says he came to check if they need water. Mishra finds asafetida bottle and says he was trying to sniff him asafetida as he is allergic to it. Adi agrees that he doesn't want to take Mishra to PTM and let his friends insult him seeing his below average looking weird father. Shanti warns him to dare badmouth about his father or else she will slap him. Adi continues insulting Mishra and walks away saying he will take Mirza instead tomorrow for PTM. Mishra feels disheartened and walks out.
Shanti walks out feeling sad. Brij walks to her and asks if she is tensed regarding Mishra's misbehavior with him. She nods yes. Brij says Mishra is same since childhood, he gets angry and misbehaves and then apologizes realizing his mistake. He goes into flashback where Mishra insults him for his old cycle and then after 4 days realizing his mistake apologizes him and agrees to use same old cycle. He asks her not to worry as Mishra will realize his mistake soon and will apologize him. At midnight, Mishra notices an earthquake, wakes up Shanti, and asks her to bring Bauji while he brings children out of house. They rush out of house. Sakina and children try to get out sleeping Mirza who falls asleep midway. Mishra helps him out. Mishra continues sleeping. Sakina realizes Noor is still stuck inside. Mishra runs in and brings Noor out. He then apologizes Brij for his misbehavior and cries like a child. Brij forgives him. Adi realizes his mistake. At school, principal asks Adi to become an obedient son like his father. Adi apologizes Mishra next.
Mi
Precap: No precap.
Update Credit to: H Hasan
Also Read: Latest Written Updates

Source: Tellyupdates