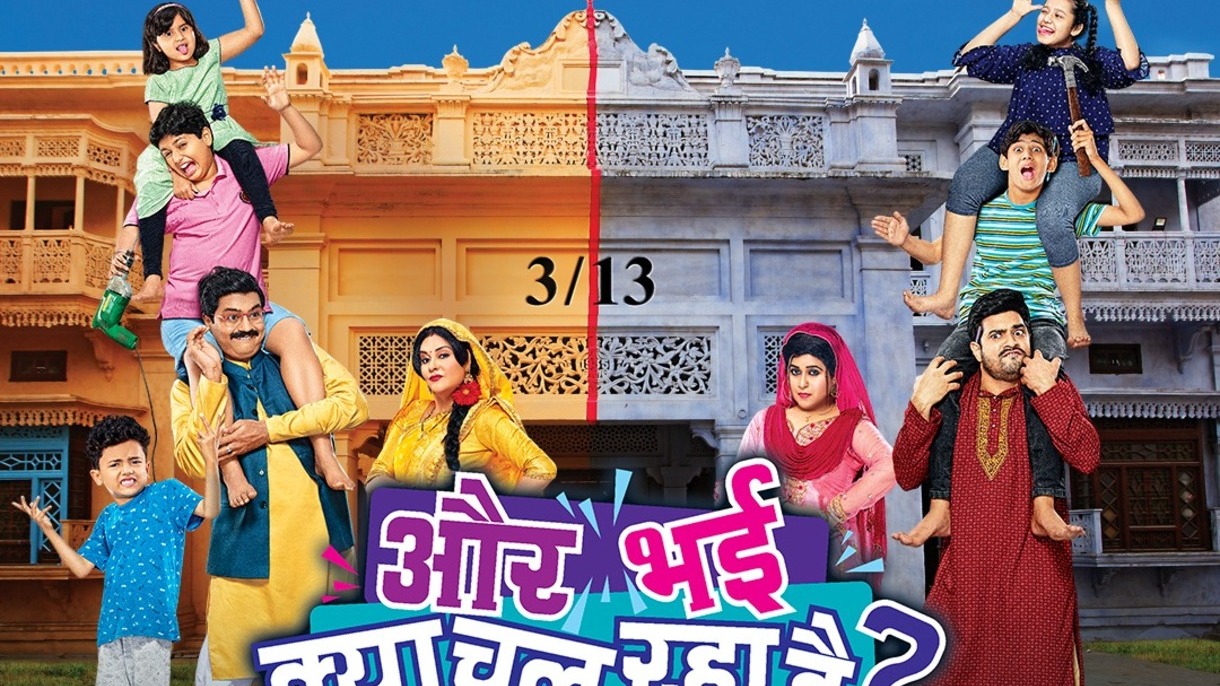 Aur Bhai Kya Chal Raha Hai 15th December 2021 Written Episode, Written Update on TellyUpdates.com
The episode starts with Mirza going to steal water from Mishra's water tank and hiding seeing Brij coming. Brij sees buckets and takes them away. He gets severe urge for no 2 and returns to his side of haveli with great difficulty. Bittu arm wrestles with BBC. BBC asks him to give him some Mishra family's news. Bittu jokes on him and wins game. He then defeats Dr. Kooda and Majnu. Ashiq denies to play as he is busy with customers. Bittu boasts about his superpowers. Kanta walks to him. Bittu jokes that his mother will complain that he broke her son's bones. Kanta insists and walks away easily defeating Bittu, leaving everyone surprised. BBC threatens to print news of his defeat. Bittu pampers and offers him snacks. Ashiq informs Bittu that Mirza's water pipeline is damaged and he is in deep trouble. Bittu thinks of enchasing on Mirza's issue by provoking him.
Mishra and Brij wait for labor to build their toilet. Bittu walks in and asks if they have any problem. Brij says his sent labor hasn't come for work today. Bittu scolds mistry and orders to finish Mishra's work right now. Mistry informs that there is a labor strike for labor increase and he can't work until its solved. Bittu informs them same and starts badmouthing about Mirza. Mirza brings water bisleri bottles, slips, and falls dropping all the water on floor. Brij rushes to help Mirza, but Mishra stops him and says they shouldn't help enemy. Brij says their religion teaches to help needy and with Bittu helps Mirza. Sakina and Noor rush out hearing Mirza's plea. Mirza says Bauji and Bittu helped him and thanks them. Brij walks away. Bittu tries to provoke him against Brij. Noor warns Mirza not to let a leopard benefit between a fight of 2 tigers.
Mirza lies down in severe pain. Inam says all the water is wasted. Noor suggests Mirza to rent a house to end their water problem. Mirza says he loves his ancestral haveli and will never leave it. Sakina asks him to reconcile with Mishra then for her and her children's sake. He denies. Noor agrees to speak to Brij. On the other side, Shanti also does same and Brij agrees to speak to Noor. He carries mixture while Noor carries 2 cups tea. They meet in lawn and discuss about Lucknow's ancient monuments. Families walk to them. They ask Shanti and Sakina to speak. They both talk about their dresses and curses each other in mind. Brij then asks Mishra to speak to Mirza. He denies, walks to lawn and refixes Mirza's water pipe. Mirza rushes in and comes out relieved. Mishra extends a friendship hand. Families rush in to relieve themselves ignoring Mishra.
Precap: No precap.
Update Credit to: H Hasan
Also Read: Latest Written Updates

Source: Tellyupdates